Item
FLYDUINO KISS ESC 2-5S 25A 4in1 (40A limit) - 32bit brushless Motor Ctrl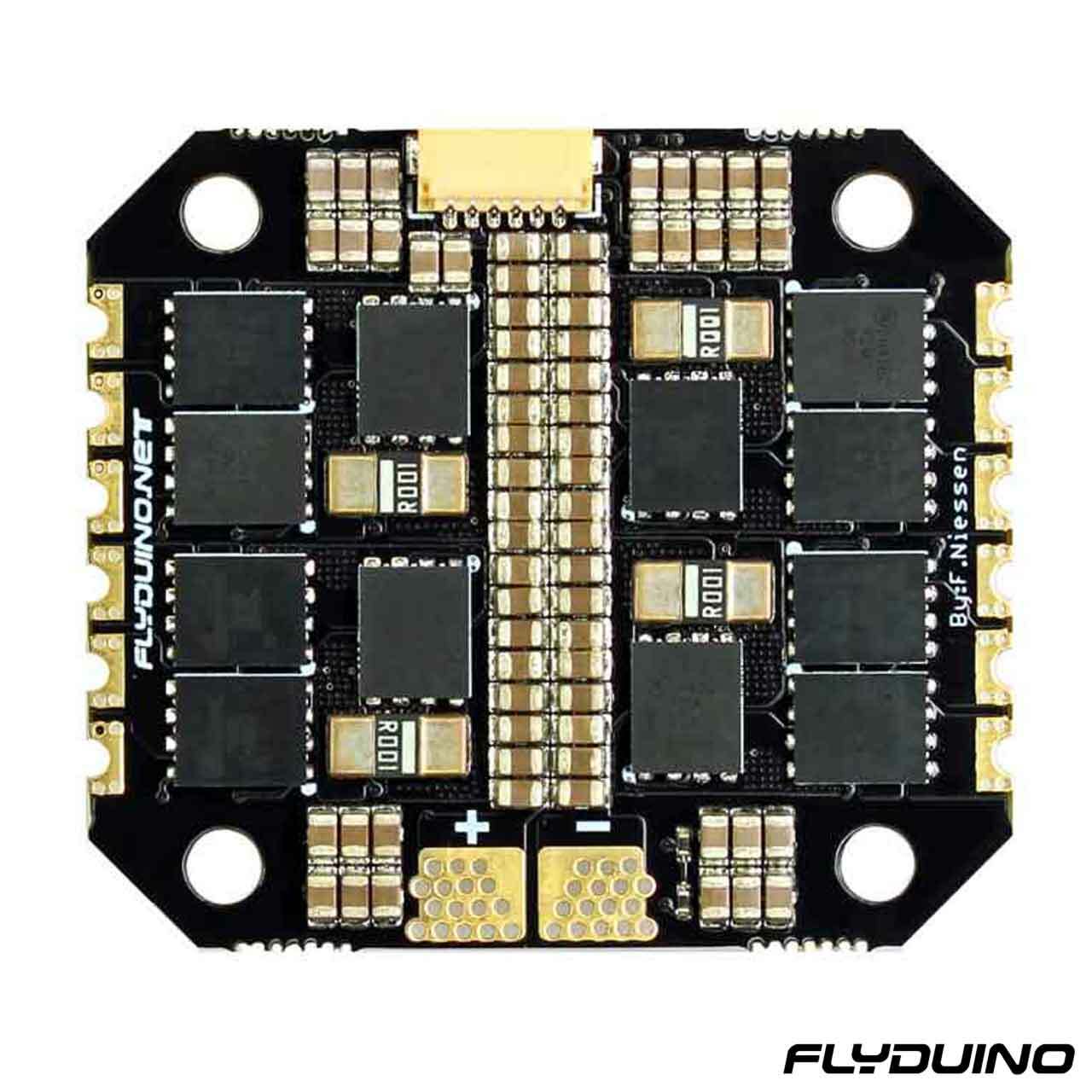 KISS ESC 2-5S 25A 4in1(40A)の32ビットブラシレスモーターコントロールです。
KISS ESC25A 4in1はケーブルでFCに接続するだけで、FCの下または上のスタックに設置できます。 作業は4×3モーターケーブルとLipoからの電圧供給をハンダ付けするだけ。
最大160A(4×40A)の最大短期電流出力により、モーターに十分な電力を確保できます。
通常コントローラーは、電圧、電流、温度、速度などの重要なテレメトリデータをすべてTLMライン経由で送信します。 これらはOSDまたはリモートコントロールを介して表示できます。
■ FEATURES
・32-Bit-ARM Cortex M4 MCU @ 80 MHz
・Telemetry capability (voltage, current, temperature, rpm)
・Overcurrent protection (measures the current and reduces it to max 40A)
・Over-temperature protection (reduces the max power if hotter then 100°C)
・sinHybrid :: Sinwave/BackEMF Hybrid mutation for smoother running.)
・Dshot 2400 (Full resolution of 2000 steps takes only 6.5μs).
・Supports all common Dshot commands like turtle mode, 3D mode, and rotation direction change.
・Expanded adaptive auto timing (7.5-30° advance on each commutation),
・For Race Multicopters (25A continuous also with weak cooling), High max. RPM (500.000ERpm, 7・1.400Rpm with a 14Pole Motor
・Accurate RPM control (2000 steps using Dshot)
・No additional capacitor needed for 3-5S.
・Very fast throttle response, Linear throttle response, Active freewheeling (low diode losses)
・Regenerative braking
・Dshot 100-2400, Oneshot42, Oneshot125 and (25 - 500 Hz) PWM get autodetected.
・Supports FrSky Sbus, Graupner SumD, TBS CROSSFIRE, and Multiplex SRXL, S-Port, Graupner HOTT, TBS CROSSFIRE, and Sensorbus
・600000 ERPM maximum rotation field speed (usage up to 500000 recommended)
・6 Layer 70µm copper PCB where almost all of the layers can be used for the current as the logic parts sit on a separate PCB
・All in and outputs are protected against over (~30V) and under voltage(~-30V) but are still 3,3 and 5V compatible
・Modern smart gate driver. gate driver
■ SPECIFICATIONS
・Size: (37.5 x 42.5 mm) (30x30mm mounting)
・Weight: 12.6g
・Operating voltage: 6 - 24V (2-5s)
・1980µF 25V ceramic capacitors onboard
・Maximum continuous current 25A, instantaneous maximum current 40A, actively limited
■ マニュアルは下記URL(FLYDUINO公式サイト)よりチェックしてください。
https://flyduino.gitbook.io/kiss-documentation/english-kiss-docu/kiss-esc-25a-4in1
https://www.flyduino.net/en_US/shop/product/pr2219-kiss-esc-2-5s-25a-4in1-40a-limit-32bit-brushless-motor-ctrl-3004
¥ 11,990
SOLD OUT
*Tax included.
*Additional shipping charges may apply, See detail..
About shipping fees
The shipping fee for this item varies by the shipping method.
Customers can choose the shipping method at time of purchase.
ヤマト宅急便 60サイズ

ヤマト運輸(追跡: 有/補償: ¥300,000/時間指定: 可)

Shipping Fees are the same all over country inside Japan 910JPY

TA-Q-BIN compact

ヤマト運輸(追跡: 有/補償: ¥30,000/時間指定: 可)

Shipping Fees are the same all over country inside Japan 570JPY

クリックポスト

日本郵便(追跡: 有/補償: 対象外/時間指定: 不可)

Shipping Fees are the same all over country inside Japan 198JPY
EMS

This shipping supports package tracking and compensation for damages.

Regional setting

Afghanistan

Bangladesh

Bhutan

Brunei

Cambodia

China

Guam

Hong Kong

India

Indonesia

Laos

Macao

Malaysia

Maldives

Marshall Islands

Micronesia, Federated States Of

Mongolia

Myanmar

Nepal

North Korea

Northern Mariana Islands

Pakistan

Palau

Philippines

Singapore

South Korea

Sri Lanka

Taiwan

Thailand

Timor Leste

Vietnam

Australia

Christmas Island

Cocos (Keeling) Islands

Cook Islands

Fiji

French Polynesia

Kiribati

Nauru

New Caledonia

New Zealand

Niue

Norfolk Island

Papua New Guinea

Pitcairn

Samoa

Solomon Islands

Tonga

Tuvalu

Vanuatu

Wallis and Futuna

American Samoa

Anguilla

Antigua and Barbuda

Aruba

Bahamas

Barbados

Belize

Bonaire, Sint Eustatius and Saba

Canada

Cayman Islands

Costa Rica

Cuba

Dominica

Dominican Republic

El Salvador

Grenada

Guadeloupe

Guatemala

Haiti

Honduras

Jamaica

Martinique

Mexico

Montserrat

Netherlands Antilles

Nicaragua

Panama

Puerto Rico

Saint Barthélemy

Saint Kitts and Nevis

Saint Lucia

Saint Martin

Saint Pierre and Miquelon

Saint Vincent and the Grenadines

Sint Maarten

Trinidad and Tobago

Turks and Caicos Islands

U.S. Virgin Islands

United States

Virgin Islands, British

Bahrain

Cyprus

Iran, Islamic Republic Of

Iraq

Israel

Jordan

Kuwait

Lebanon

Oman

Palestinian Territory, Occupied

Qatar

Saudi Arabia

Syria

Turkey

United Arab Emirates

Yemen

Aland Islands

Albania

Andorra

Armenia

Austria

Azerbaijan

Belarus

Belgium

Bosnia and Herzegovina

Bulgaria

Croatia

Czech Republic

Denmark

Estonia

Faroe Islands

Finland

France

Georgia

Germany

Gibraltar

Greece

Greenland

Guernsey

Holy See (Vatican City State)

Hungary

Iceland

Ireland

Isle of Man

Italy

Jersey

Kazakhstan

Kosovo

Kyrgyzstan

Latvia

Liechtenstein

Lithuania

Luxembourg

Malta

Moldova

Monaco

Montenegro

Netherlands

North Macedonia

Norway

Poland

Portugal

Romania

Russia

San Marino

Serbia

Slovakia

Slovenia

Spain

Svalbard and Jan Mayen

Sweden

Switzerland

Tajikistan

Turkmenistan

Ukraine

United Kingdom

Uzbekistan

Argentina

Bolivia

Brazil

Chile

Colombia

Curaçao

Ecuador

Falkland Islands (Malvinas)

French Guiana

Guyana

Paraguay

Peru

Suriname

Uruguay

Venezuela

Algeria

Angola

Ascension Island

Benin

Botswana

Burkina Faso

Burundi

Cameroon

Canary Islands

Cape Verde

Central African Republic

Ceuta and Melilla

Chad

Comoros

Congo

Congo, The Democratic Republic Of The

Côte d'Ivoire

Djibouti

Egypt

Equatorial Guinea

Eritrea

Eswatini

Ethiopia

Gabon

Gambia

Ghana

Guinea

Guinea Bissau

Kenya

Lesotho

Liberia

Libya

Madagascar

Malawi

Mali

Mauritania

Mauritius

Mayotte

Morocco

Mozambique

Namibia

Niger

Nigeria

Reunion

Rwanda

Sao Tome and Principe

Senegal

Seychelles

Sierra Leone

Somalia

South Africa

South Sudan

Sudan

Tanzania

Togo

Tristan da Cunha

Tunisia

Uganda

Western Sahara

Zambia

Zimbabwe

Bermuda

Bouvet Island

French Southern Territories

Heard Island and McDonald Islands

Indian Ocean Territory, British

Saint Helena

South Georgia and the South Sandwich Islands

Tokelau

United States Minor Outlying Islands